M-Folia was developed as an alternative non-steroid treatment for Psoriasis & Eczema sufferers. Shop our range of nutritional skincare and haircare treatments.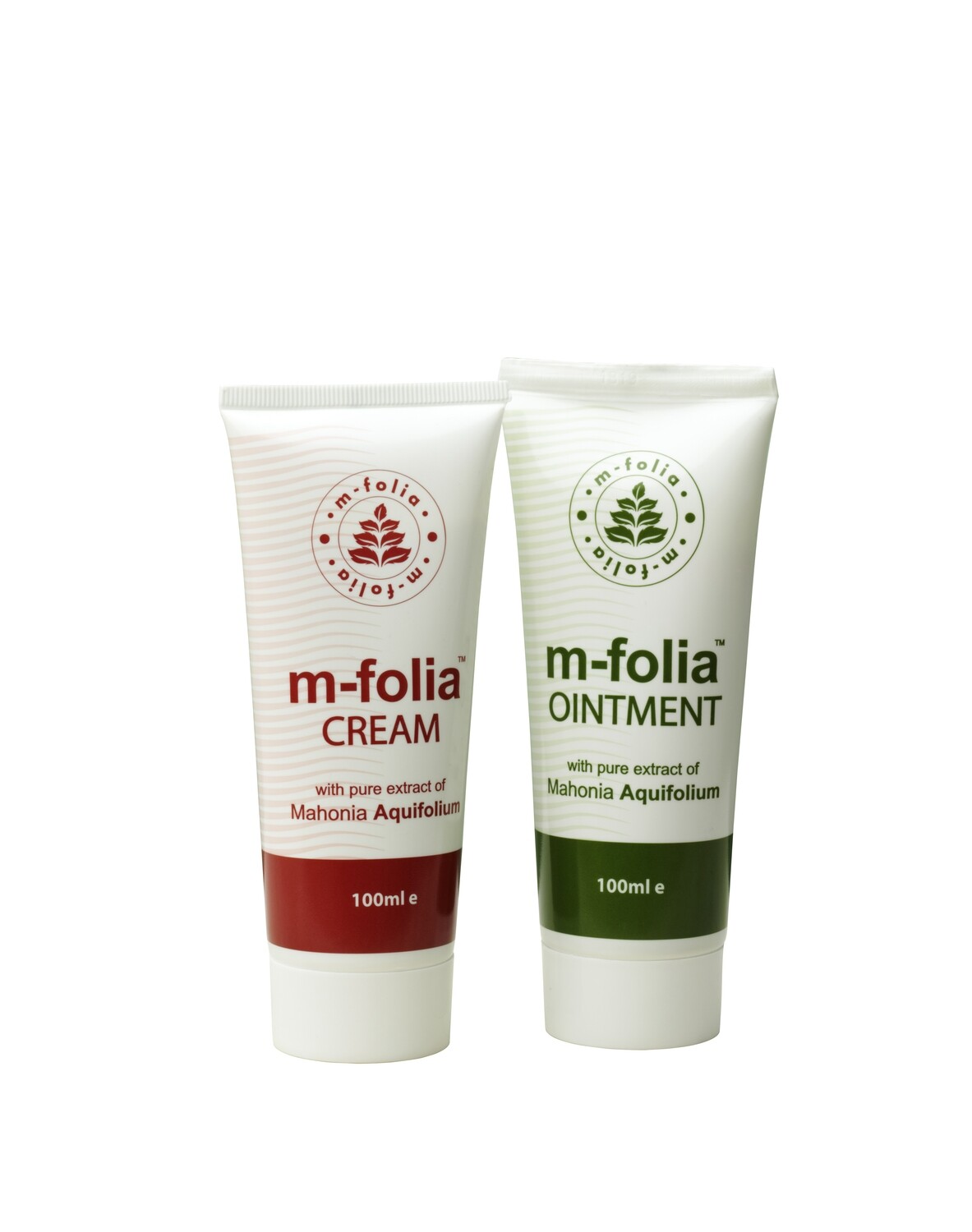 M-FOLIA DAY & NIGHT SET
SKU 00030
M-FOLIA Night & Day Pack. A dual pack of M-Folia Ointment and Cream both formulated to help alleviate the symptoms of Mild to Mo
Product Details
M.Folia Psoriasis Cream and Ointment 100 ml e. contain pure extract of Mahonia Aquifolium and are specially formulated to help alleviate the symptoms of Psoriasis & Eczema. A rich, non-greasy skin cream and a deep, penetrating highly effective skin ointment in a soft, white paraffin base. M-Folia cream is absorbed easily into the skin for deep moisturising. M-Folia Psoriasis Ointment is slightly oily and creates a protective film over the skin. It is ideal for night-time use and is suitable for all parts of the body and areas that chafe

Cream Ingredients: Aqua/Water, Cetearyl Alcohol, Prunus Amygdalus Dulcis (Sweet Almond) Oil, Alcohol, Glycerin, Mahonia Aquifolium Flower/Leaf/Stem Extract, Polysorbate 20, Glyceryl Stearate , Caprylic/Capric Glycerides, Tocopheryl Acetate, Phenoxyethanol, Sorbitan Stearate, Simmondsia Chinensis Seed Oil (Jojoba Seed Oil), Citric Acid, Sodium Stearate, Ethylhexylglycerin, Xanthan Gum
Ointment Ingredients: PETROLATUM, PARAFFIN LIQUIDUM, MAHONIA AQUIFOLIUM HERBAL EXTRACT, SORBITAN MONOLEATE
Usage Direction of Both: Cream: Carefully clean the affected area before applying a thin layer of the cream, 2 - 3 times a day or as required. This cream is suitable for long term use if symptoms persist. Ointment: Apply 2-3 Times Daily or as required. Recommended to be Used in Conjunction with M-Folia Cream. Suitable for use on children.
Store in Cool and Dark Place. Once Opened Use within 12 Weeks. Alternatively, use as Directed by your GP or Health Practitioner.Warnings: For external use only. Keep out of the reach and sight of children.
Box Contains1 Pack of Cream 100ml and 1 Pack of Ointment 100ml
Save this product for later