M-Folia was developed as an alternative non-steroid treatment for Psoriasis & Eczema sufferers. Shop our range of nutritional skincare and haircare treatments.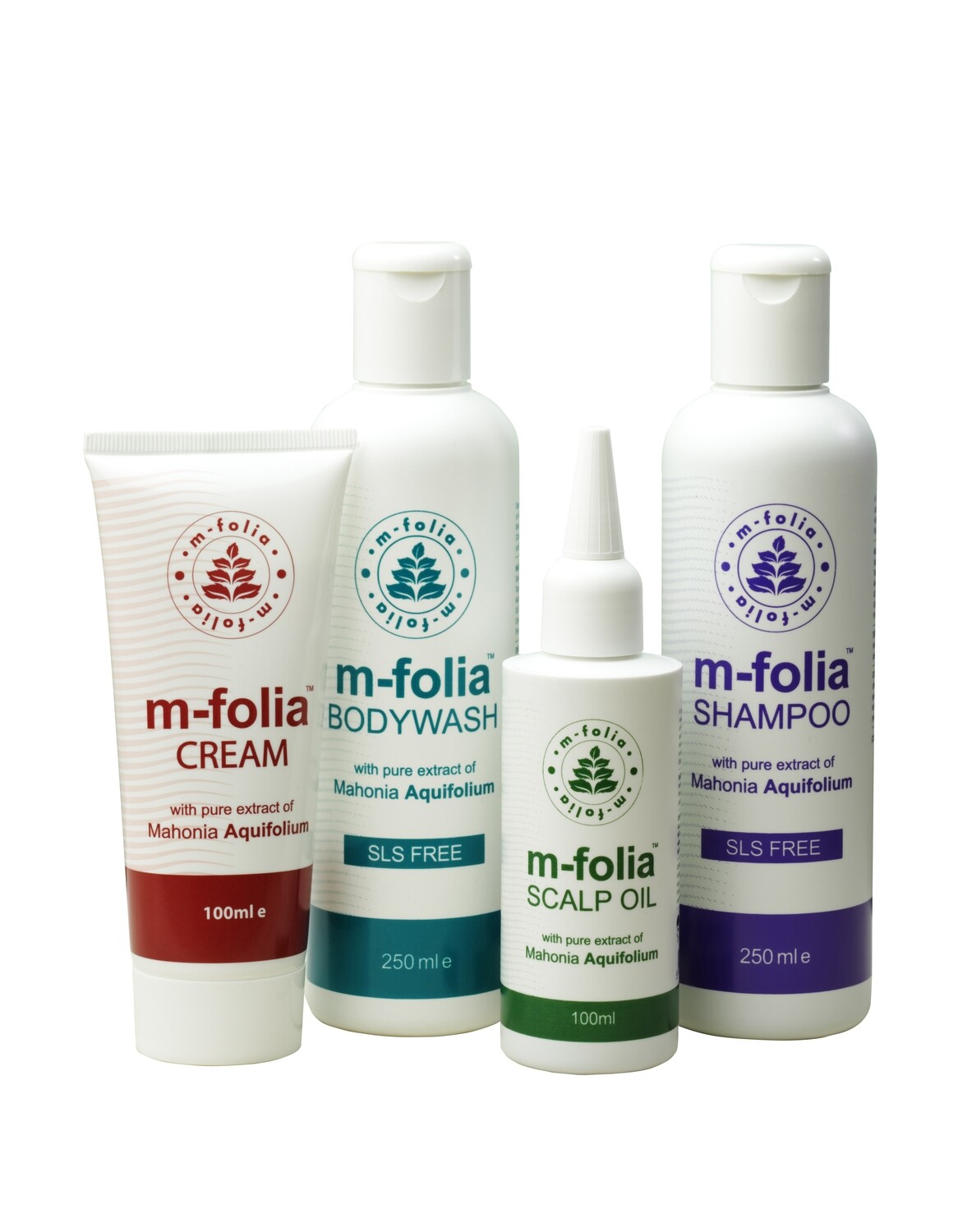 Psoriasis Treatment Set for Body & Scalp
SKU 00048
Product Details
Save up to 15% when you buy an M-Folia Multipack!
Our M-Folia Psoriasis Treatment Set is great value for money. The Psoriasis Cream is suitable for all parts of the body including face and sensitive areas. Suitable for children and babies. Helps clear the symptoms of cradle cap and nappy rash.
Clinical trials have proven that
Mahonia Aquifolium
contains anti-bacterial, anti-fungal and anti-proliferative alkaloids properties. It is 100% pure HAB standardised Mahonia Aquifolium - a plant extract recommended by
The Psoriasis Foundation
Contains no coal tar, corticosteroids, pharmaceutical drugs or animal derived materials.
Directions of Use: Apply the Psoriasis Treatment Cream to the affected areas 2-3 times daily or as directed by your GP or health practitioner. Apply the Psoriasis Treatment Scalp Oil to scalp and leave for at least 15 minutes or overnight, then wash out thoroughly with Psoriasis Treatment Shampoo. Apply the shampoo to wet hair and gently massage into hair and scalp. Rinse thoroughly. Our Bodywash contains no SLS, chemicals, parabens or perfumes. It is gentle for shower wash or as a foam bath.
"The initial effect has been fantastic; itching subsided, scaling vastly reduced, redness reducing. After less than 1 week the reaction is remarkable, & the stress of having psoriasis is reducing"
Mrs W. Trimble, W. Mids., sufferer for 5 years

Save this product for later